Member & Client Success Stories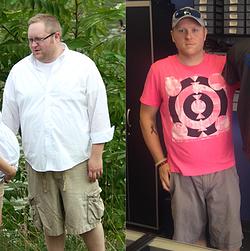 Sean Daly (Age: 29 Weight Loss: 110 lbs)
I arrived at Fit For You after trying a few area gyms and meeting several personal trainers. I started here after moving from New York and already being around 80lbs down from my starting weight of 318lbs. I was working out regularly and eating as clean as I had ever done before in my life but after 8months I was still stuck at 238lbs.
Enter the trainers – these guys have changed my life. I wanted to break the barrier of 238lbs and hit 100lbs lost… It took these guys a few months to get me there and I haven't looked back since.
Presently I sit at 207lbs – 110lbs lost! In my wildest dreams, 30lbs in 3months would have never happened the way I stalled at certain points in the past. My trainers have given me the mental toughness to push through my workouts, more importantly I've gained insight in to my diet and workout routine that I've never had before.
The personal attention given here at Fit For You is astounding, but these two guys have elevated the game in the arena of personal training – I couldn't have asked for a better fit and I can't imagine hitting any future goals without these guys. A huge Thank You to both of them!
I'm honored to be not only Client of the Month but also Client of the Week! And with the help of my trainers, I will continue to push harder and harder. I look forward to continuing with my trainers; I've changed my goal weight from 185lbs to a goal body fat percentage of 10% … I have no doubt I'm in the right place to make this happen.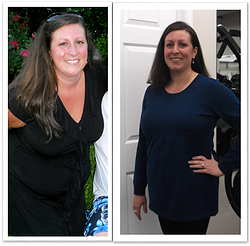 Kalli Baird (Age: 40 / Next Goal: Staying Consistent!)
If you were to ask me the secret to weight loss/maintenance… I would tell you this, "There is no secret routine, no magical number of reps/sets, no specific amount of miles run or biked. What there is, is confidence, belief, hard work on a consistent basis and a desire to succeed."
Every day I simply wake up with the desire to live as healthy as possible. For me that means making the best food choices I can, physical activity, logging quality sleep, and making sure that I smile/laugh as much as possible. Its all about balance. If I am consistently making healthy choices that add up to overall health and well-being, I feel balanced. I have wasted too much time and energy in the past obsessed with the scale and whatever diet trend may have been the thing at the time. Today I believe that whatever goals I set forth, I can accomplish, but only through consistent healthy food choices and a desire to be successful.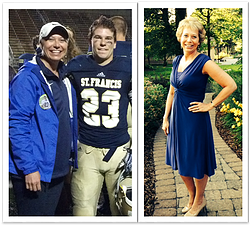 Barb Anderson (Age: 50 / Next Goal: Do a Cartwheel again!)
Sometimes your Best Quality can also be your Worst Quality. For me that is putting others before myself to a fault. Eight years ago I lost my brother and my father. Much of my time was spent helping my mom, caring for my 3 small children, bookwork for my husband's business and remodeling our house. I literally did not exercise for a year. I would say "I am so busy; I cannot even fit into my own schedule". It took 6 years for me to put myself at the top of the list and I joined FFY-Ice. Working out on my lunch hour with a trainer, I successfully lost 10 pounds. The next year, on my 49th Birthday I found out I have very aggressive type of Breast Cancer. I would face Chemotherapy- Hair loss, a Double Mastectomy, Radiation and reconstruction surgery.
At that moment I stood face to face with cancer and vowed not to lose.
Whoever said, "Winning isn't everything"… never had to Fight Cancer.
Your thoughts are most powerful tool you have in this situation. I chose to work to keep my mind mentally strong, have a positive attitude and a smile on my face. With lots of prayers and the support of my friends and family, I completed all of these treatments over the next year and a half. It was awful! I learned as much as I could about my cancer/ treatments. Exercise always would come up. My first goal was to walk every day. The fatigue was huge. I worked part time and slept a half day, every day for a year. Needless to say my body became weak. I did my best to exercise but chemo made it very painful to walk or use my hands. I have lymphedema in my arm. I received a call from a trainer here and he offered to show me the Garfield location which was intimidating to me. He explained how he could help me regain my strength and energy. This visit and commitment to work with a trainer, is one of the BEST DECISIONS OF MY LIFE!!! I was nervous to come to the gym with no hair, little strength, slow cognitive skills and no energy. My trainer was very patient, encouraging and came through on his promise to help me feel better and get stronger; and we laugh a lot making it fun. I have trained with my trainer through 3 surgeries and not being able to use my arms. I have more endurance than ever. He is a wealth of knowledge on nutrition, exercising your body to feel better and for strength. My Doctors are very happy with my progress and I would say that I FEEL AWESOME!!!! My Trainer says I'm a Bad ASS! I'm ok with that because I have exceeded my expectations several times because of his great training. He is very much a blessing to me! Currently I am done with my treatments and as far as we know the cancer is gone. This is a time of high anxiety for me and exercising with my trainer makes me feel safe and keeps my focus on staying healthy. I plan to continue training at least until I can do a cartwheel again.
My success is not measured by inches or pounds, but by taking what Life puts on your plate and making the best of it. Attitude is everything and remember it is a choice- Make it a positive one. Count your Blessings, Give Hugs, and Smile On!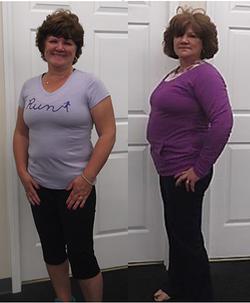 Connie Kennedy (Age: 53 / Weight Loss: 20+ pounds)
Wow! Life is a wonderful whirlwind of busy! With eighteen Children, eleven grandchildren, an amazing husband, family, friends, home and a business to run, had left me not taking the best care of my health. Learning to put myself first hasn't ever been easy. But one day after a doctor's visit, I found that my health had faltered test scores and findings weren't what they needed to be!
That was my wake up call!
Visits to the gym had always been a bit of hit and miss and where ever I could fit it in kind of thing. But after the wake up call, I knew changes were needed if I was going to enjoy quality of life or life at all.
So when it came across my email that the gym was offering a weight loss challenge "See Jane Lose," I knew it would be a great place to start. The trainers are awesome; they have a way of pushing you to that place of "I hate you," but it was exactly what I needed and somewhere along the way those moments of hate turned into this awesome love and appreciation for each of them. They filled any gaps that were missing in my knowledge of how to keep the weight down and off. Now that the challenge is over, I am still striving to obtain my ultimate goal. I also know that they're here to help in anyway.
Thank you Fit For You! To all of you who happen to be reading this testimonial, if you want to reach your goals this is the place to do it! As I continue to tweak my nutrition and workouts, I personally hope to see each of you in that love-hate-love relationship with your trainer. Life is a wonderful, fun, whirlwind of busy that I want to enjoy for a long time with those whom I love.
Fit For You helps to make that a reality!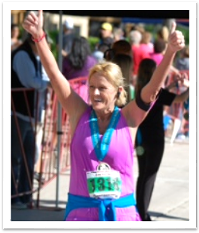 Pam Silva (Age: 50 Weight Loss: 13 pounds)
When I called Fit For You I was my heaviest. I was a runner and suffered an ankle injury and used the injury as my excuse to eat and sit all I wanted.
I decided to follow my goal of running a 1/2 marathon when I was 50. Three days after my 50th birthday, I finished my first 1/2 and signed up for the next. I'm excited to spend the 2nd 1/2 marathon of my life feeling the best I have ever felt!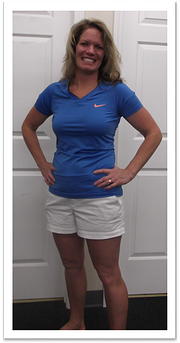 Kathy Kreykes (Age: 44 Weight Loss: 20 pounds)
As long as I can remember, I've been a pleaser, basing my self worth on what people thought of me. Strong work ethic, dedicated, loyal, unselfish, kind, athletic, tough, patriotic, level-headed, fun and flirtatious, blah, blah, blah… were all adjectives I wanted people to remember me by; anything to be liked and admired.
Devastating events in my personal life led me to Fit For You. I was going to end my own life or figure out my identity. I chose the latter. Likewise, taking anti-depressants was a "hard pill to swallow", something that made me feel weak, yet I took them for over 7 years. Last fall I decided it was time for me to do something better for my body, mind, and soul. So I changed my attitude, delved into church, and I called Fit For You.
I have been a member for 9 months. Sometimes just walking through the doors have been a major accomplishment for me. Walking out has been rewarding, because I did it! I trained with a trainer and didn't die! I still train with a trainer, and I do not anticipate ever quitting, because working out has been more than abusing my body physically; it's been a personal growth in confidence ("baby" steps are still steps), identity (I'm ok with what I can do), responsibility (less carbs, more protein) and it's been my anti-depressant (med-free for 7 months). I feel stronger physically and mentally, and I truly enjoy and appreciate the friendly, encouraging staff, as well as the Fit For You clients, with whom I have made many friendships.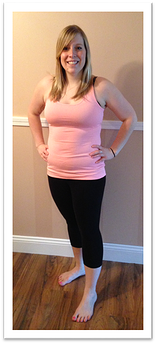 Abby Raguse (Age: 25 Weight Loss: 22 pounds)
I 've never felt comfortable with my body and have always wanted to be smaller. I was a fairly healthy teenager but started gaining weight when I left for college, hitting my largest size when I graduated in 2012. I had gained 40 pounds in five years, eating fast food at least once a week and not caring for my body or what I put into it. I didn't notice how large I had become and am shocked when I go back and look at pictures. When I joined FFY I was the heaviest I have ever been and unhappy in all aspects of life, especially my body. I had no motivation or courage to go to the gym, embarrassed by my weight and convinced that fellow gym members would judge me.
I decided to take the plunge at the end of November 2013 when I met with a wellness counselor at Centre Ice and signed up for personal training with Sara. I immediately fell in love with how nice and welcoming everyone was and looked forward to going to the gym for each session. I slowly started to notice changes as the weeks went by, especially in the way my clothes fit. I remember how excited I was when I was able to fit into the small scrubs at work and when I donated my jeans because they were literally falling off of me. In the six months I have been training, I have lost 22 pounds and have never been happier or more confident. The changes I've made to my exercise and eating habits have me feeling better than ever. The positive comments I get from my family, friends, coworkers, FFY family, and Sara give me the inspiration to keep going and make it all worth it. I still have a long way to go with my weight loss but I am excited to see the future results. My journey is far from over and I can honestly say that FFY has changed my life in more ways than I could ever imagine.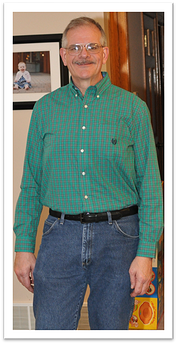 Mike Lee (Age: 56 Weight Loss 155+ pounds)
January, 2013 – At age 55 and weighing 375 lbs. (with an estimated 36+ % Body Fat), it was not easy to live in constant pain with arthritis in all of my joints and having pain in both knees which are bone on bone with no cartilage. I was also taking meds for High Blood Pressure and flare-ups of Gout and using a C-Pap Machine to sleep at night. I could barely get out of my Lazy Boy chair to stand up at times. Making poor choices for food on the road with my sales job and my cravings for junk food at home had taken their toll. It was time for some drastic changes.
I met with a trainer at Fit For You to help lay out a lifestyle that would fit into my routine and he showed me exercises I could do at home and on the road as I travel Northern Michigan for my job and can't get to the gym on any regular basis. He also showed me how to use machines for building muscles when I could get to the gym. That day was the first time I had ever stepped foot in a gym of any kind to work out in my life. The entire staff is terrific! It's why I drive 70 miles to work out, a few times even when I'm not in TC on business, because the atmosphere here is unlike any other gym that I NOW visit frequently in other cities around Michigan.
The pounds continued to melt away as I stuck to my nutrition plan and exercised, and also worked out with weights when I could about once a week. By the time of my Annual Physical the end of October, I was off the C-Pap machine and off all meds. The best part is having NO PAIN in any of my joints including my knees. By 12/31/13 I had lost a total of 155 pounds in just less than 11 months.
Over the next several months I continued to tone and build muscle and lose fat.
At age 56 I could never have dreamed to look and feel this way after where I was 15 months ago.
The great staff here at Fit For You and the training have inspired me to succeed and truly make a lifestyle change for life. I look forward to continued strength building and toning as I maintain my weight with my newfound healthy eating habits.