Myzone!
Wearable tracking device
Exclusively at Fit For You Health Club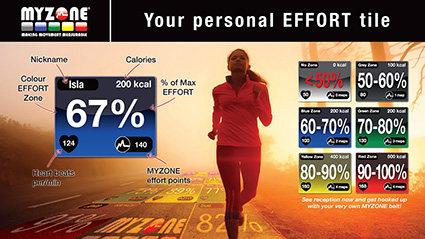 Why Myzone?
With Myzone's increadible accuracy (99.4%) you can record and accumulate Myzone effort points (M.E.P.s).
This is by far the best wearable tracking device that we have ever used here at Fit For You Health Club, and we have tried several, and have done a lot of research. This device will show you the percentage of heart rate that you are exercising in at any given time, and show you improvements by pacing you in an easy to read color zone. It will also show you your maximum heart rate, your minimum heart rate, your percentage effort performed in a particular workout and show you your actual calories burned in real time, with a quick glance at the many monitors throughout Fit For You Health Club.

Now let's face it, you are not going to wear the Myzone exercise strap all day long to track how many steps you take. We don;t really need to know how many steps it is from your car to your house which is not what tracking devices are for. Myzone is designed to track your exercise to achieve your goals quickly and effectively and to get you in and to keep you in YOUR ZONE.
When you have completed your workout you receive your daily reward, by learning exactly how many M.E.P.s you have accumulated.
Click here to get your belt and get started today.
The Training department at Fit For You Health Club!