Corporate Fitness​​​​​​​​​​​​​​​​​​​​
​ – Result Driven
What Is a Corporate Wellness?
A Corporate Fitness Program is a joint initiative between Fit For You Health Club and your company that will encourage your employees to begin a healthy lifestyle! By providing reduced membership rates, subsidized membership dues, or the convenience of payroll deduction employees are more likely to get fit and stay fit!
Although health care costs are soaring, there is a growing interest in workplace wellness programs to improve health and lower cost. In a critical analysis on cost and savings associated with wellness programs, it was found that medical cost fell by about 3.27 for every dollar spent on the program and absenteeism cost fell by 2.73 ever every dollar spent
What's Included?
One Year Membership
Unlimited Fitness Classes
Unlimited Tanning
Group Weight Loss Session
Semi-Annual Nutrition Seminars
Seminar with co-owner Vern Gauthier on "5 Rules of Weight Loss Success"
One Fitness Assessment with a Personal Trainer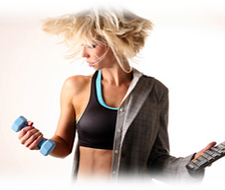 What You Will Learn…
What micro nutrient is critical to weight loss and well being?
What molecule is the magical element in any wellness plan?
The Top 10 Reasons why most people fail.
What is your RMR (resting metabolic rate) and why is it so important to your success?
Complete the form to get started.
A Fit For You representative will then contact you to discuss the various membership options we offer and help you select a plan that works best for your company and the employees.