FIT FOR YOU MEMBERSHIP PROGRAMS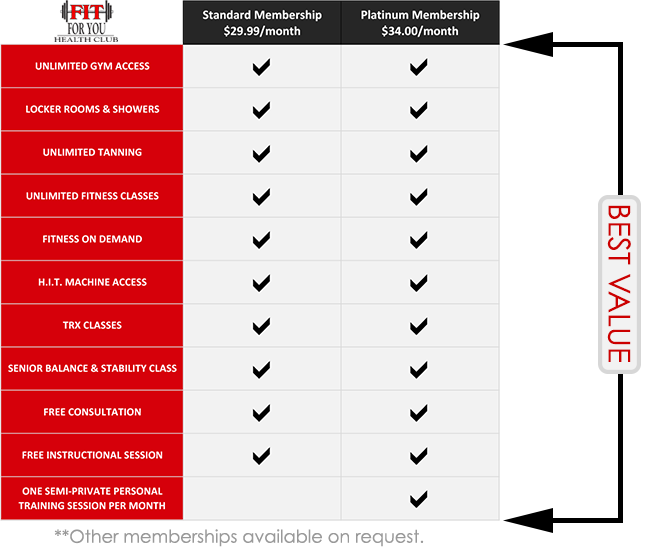 Standard Membership Monthly Payment: $29.99
includes full facility, classes included.
Platinum Membership Monthly Payment: $34.00
includes full facility, classes included and 1 personal training session a month.
What is a Platinum Membership?
Our Platinum Members have total and complete access to every service we offer as well as one semi-private personal training session per month with one of our certified personal trainers.
Will I get help when I join?
Every new member starts out with a free assessment to determine goals. Length of time to reach goals, nutrition assessment, fitness evaluation and a 30 day personalized workout plan. After your assessment we have a personal training coordinator on the floor for just that… to help you.
Does a personal trainer come with the membership?
Upon signing up on our Standard Membership, you will receive one instructional session with one of our personal trainers. Platinum Members receive one semi-private personal training session per month. All sessions need to be pre-scheduled at least one day in advance.
Are you open on the weekends?
Yes. We are open 7 days a week except on national holidays.
Do you have to be in good shape to fit in at Fit For You?
Absolutely NOT! We are all here for the same reason… to make ourselves better. We are the leading health club for a reason. Let us teach you the best way to get the results you are yearning for with certainty and speed.
I have joined gyms many times in the past and failed to use it. Why will Fit For You be different?
Many people have failed with gym memberships and always look for others to blame. The recession, staff, clients, government, family, friends… in fact anyone they can to direct responsibility away from themselves. We could sugar coat this subject, or avoid it totally, and continue onward. But winners find the courage to look at "Tough Things" take personal responsibility an deal with reality. At Fit For You, we don't back off – we dive straight in. The truth can hurt, but sometimes it's what we need to hear. If you haven't made any progress toward your goal and your frustrated, then click this link and we will show you exactly what needs to be done to reach your goals.
Corporate Membership Programs
Studies show that fit employees have higher job satisfaction, lower turnover, and fewer medical bills.
Learn more about offering health club memberships to your employees – Click Here!​​​​​​​​​​.

Fit For You Health Club is proud to participate in the Healthways SilverSneakers Fitness Program, the nation's leading exercise program for older adults. More than just a gym membership, SilverSneakers participants are offered specialized exercise classes, health education and social programs that have been shown to help older adults maintain good health, reduce health care costs and lead an active, independent lifestyle.
To learn more about SilverSneakers and Fit For You Health Club call us at (231) 922-7285, stop in the facility or visit silversneakers.com.

Fit For You Health Club is proud to be a Silver&Fit participating fitness facility. Silver&Fit is designed specifically to help older adults achieve better health through regular exercise and health education. Silver&Fit provides eligible members with no-cost or low cost fitness memberships through arrangements with certain health plans.
To learn more about Silver&Fit and Fit For You Health Club call us at (231) 922-7285, stop in the facility or visit silverandfit.com.